Program mindset, model and mattering
Deep learning does not stop when students leave the classroom. In fact, for many, that is where it starts.Our collective experience in the last few years has reminded us of the interconnectedness of all aspects of life. In the context of education, it's helped me and many others realize the importance of integrating community wherever we can.This stands in stark contrast to the conventional classroom model, which operates as a silo of subject-specific learning. "Real world" application is on your own time. It does not have to be.
Connecting to community is NOT
field trips to museums or one time guest speakers.
about events, community service, or travel. (…though these are great!)
Community as Curriculum IS:
about sustained relationships, apprenticeships, and mentors on call.
true network building, and it is time well spent.
I've been digging into this concept, and share some framing ideas in this post.
The Big Idea
At Revolution School, in collaboration with other innovative spaces locally, nationally and globally, we're working on strategies to help break down the walls that divide schools from the world. Our goal in engaging with community AS curriculum is to create opportunities for learners to feel empowered by their reach and connected to their local and global communities. Community as Curriculum involves:
Engaging and building long term community guides, advocates and mentors.
Participating in community, and inviting community to participate in schools.
Collaborating on authentic, engaging and equitable work that matters to all.
Finding individuality and learning inside exercises that build community.
This post shares a bit of how we are executing upon this idea.
Making Big Ideas Usable
My colleagues and I have been looking for ways to integrate social connection and community building into the classroom, to build bridges across stakeholders—with learners' perspectives and experiences front and center at the proverbial table.Here are some of the ways we've been exploring. More in Part II in the next post.
1. Mindset: Move from Guests to Advocates
We begin with mindset, and here, language matters.Guests become advocates. Field trips become fieldwork. Events become community building moments. The focus is on connection over time, and people first projects. Below, check out our model of Co-Creating Community Curriculum.
2. Model: People Based Learning
Our mindsets need a model to guide action.Humans are social beings, and we learn with and from those around us all the time. A recent post outlines support for the need to add a new P to PBL: People Based Learning. If we are not intentional about the human elements of our learning, we miss opportunities to build the connective people skills that serve us all.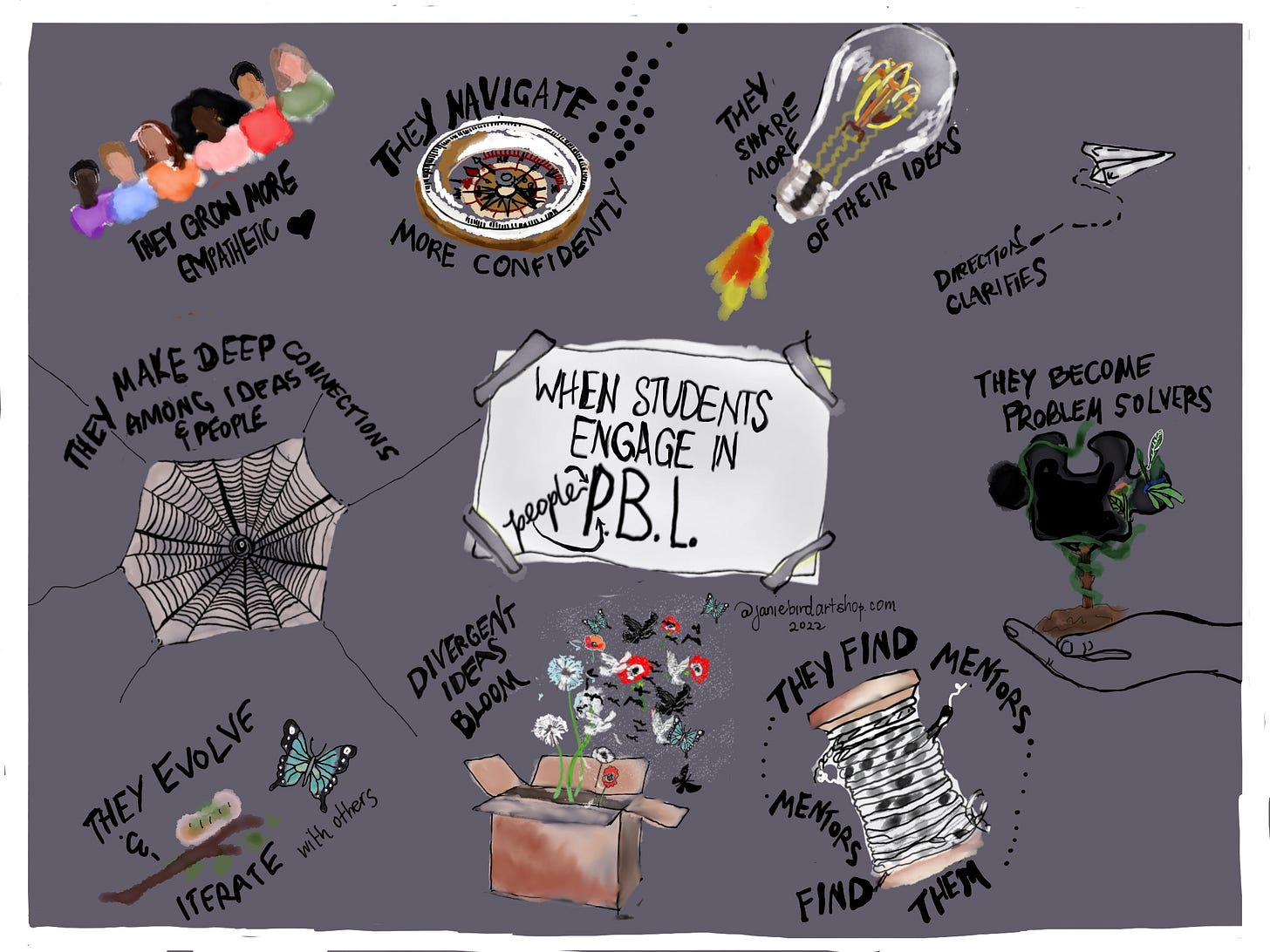 3. Mattering: What matters to you?
When defining our community connections, we need to begin creating programs rooted in what matters to our community. This is how we start:
What matters to you?
What breaks your heart about it? ( I found this here and loved it.)
What can you do about it?
To embody a connected approach, we need to start with mindsets, models and mattering. Schools and classrooms can not exist as isolated learning environments, siloed off from the broader community. We move from there to structures, systems and activities- which will be in the next post.
Community as Curriculum is where the future lies. Community threads complement, enhance and offer application for the rich learning that happens in schools and classrooms.